Teaching TOEFL Preparation Certificate
This 25-hour online course is designed for teachers seeking an additional qualification in teaching preparation for the Test of English as a Foreign Language. The course is divided into 4 modules. The modules include: an Introduction to the TOEFL test and other language proficiency tests, TOEFL Language Skills (reading, listening, speaking, writing), TOEFL Building Skills (grammar, pronunciation, vocabulary, and supporting skills), and Lesson Development for teaching TOEFL preparation. This course is based on the newest 2023 version of the TOEFL.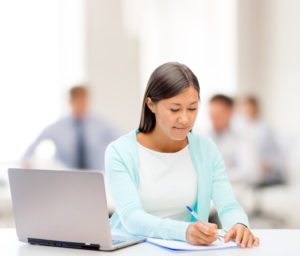 Outcomes:

Upon successful completion of this training, participants will be able to: (i) demonstrate knowledge in teaching TOEFL preparation, including test administration and comparing other test formats and content, (ii) design and deliver lesson plans for teaching TOEFL reading, writing, speaking, and listening test preparation, (iii) incorporate building skills such as grammar, pronunciation, vocabulary development and other supporting skills such as note-taking, summarizing, paraphrasing, skimming and scanning, (iv) and integrate a variety of resources into lesson planning.
How the course works:

Register here using the secure on-line registration form below. Once your registration has been confirmed by the College you will be sent a user name and password by email to begin the course. You may work at your own pace from any computer with an Internet connection. The course is divided into topics and sections. There are four sections and a multiple choice test after each section. If at first you do not succeed on any of the four tests you can try again until you pass and feel confident to go on to the next section.
Upon completion of a course, the certificate and a transcript will be emailed. A hard copy of the certificate mailed to you can be purchased for $25.
This course is a great add-on to our TESOL Certificate or TESL Diploma programs!
Tuition fee: $300 CND 
How to Purchase and Register: Simple, safe, secure, using the "Add to Cart" button below. Please allow up to 48 hours for your course registration to be processed and for you to receive your user name and password by email.